Vehicle Dent Got You Down?
Paintless dent repair is a solid choice for those who want to spend less money and have their car repaired faster. When a dent qualifies for PDR you don't have to worry about paint colors matching or overspray marks, we simply remove your dent and the hassle of a body shop.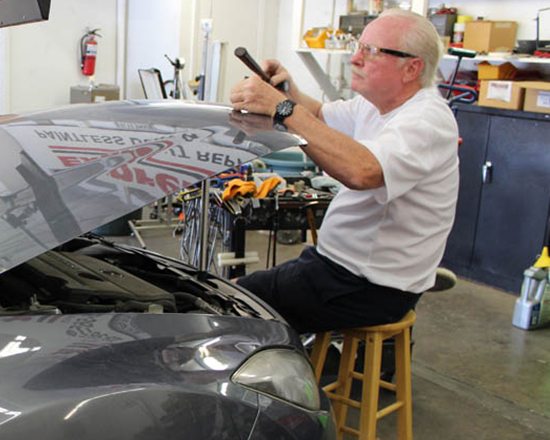 Vehicle Dents come in many shapes and sizes. Thankfully, our team's 25 plus years of experience allow us to take care of most any dent on your vehicle with our Paintless Dent Repair (PDR) services. We are here for you because dents just happen. We try and avoid them as much as possible and then out of nowhere, you walk up to your vehicle and recognize that new dent… Luckily PDR is at your disposal. Our team takes the time to complete each project the proper way. You can rest assured that no holes will be drilled in the body and that a well qualified specialist will be removing your dents with the proper tools and skills needed in this trade. The people of Fort Worth, Texas and surrounding areas have shown us that we do a great job by becoming lifelong customers. Come in and find out why.
DOES YOUR DENT QUALIFY?
The main qualifying points as to whether a dent can be removed using Paintless Dent Repair are simple. The original paint needs to be intact and the dent can not include an edge of a panel such as the red areas in the picture above. Edges are sometimes possible; however, this varies among different automobile manufacturers. All makes and models are Paintless Dent Repaircandidates. However, performing Paintless Dent Repair on vehicles manufactured prior to 1980 becomes more limited.