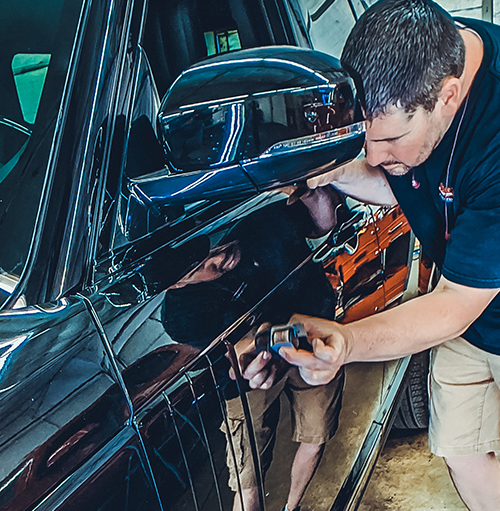 A Little About Us
Express Dent Paintless Dent Repair was founded in Fort Worth, TX in 1990, and has been in its current location since 1991. Our years of Paintless Dent Repair experience, and commitment to quality restoration have earned us the respect of many of the Dallas-Fort Worth metroplex area's elite car dealerships. Dick Regester and his staff are considered Master Paintless Dent Repair Technicians.
Dick has conducted insurance training seminars throughout Texas in order to educate insurance adjusters about the benefits and pricing of Paintless Dent Repair, so as to best help clients get their cars back as quickly as possible. At Express Dent we strive to provide all of our customers with the highest level of satisfaction and unparalleled service.
Express Dent is conveniently located at 2841 White Settlement Rd suite C in West Fort Worth, TX. We are less than two miles from downtown Fort Worth and the West Freeway. We have a comfortable lobby for your convenience, as well as nearby shopping and dining. There is also a rental car agency just a few blocks away, should your repair require more time.